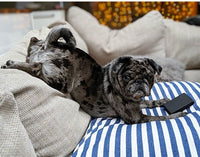 Welcome to Hunkin Hounds
We have a passion for dogs, and their comfort is our priority.
We wanted to create unique, functional and modern style Dog Beds, Dog Carriers, Blankets and everything in-between!
So if you are looking for a comfy cushion bed, a cosy furry throw or a fold-up travel bed, have a browse through our beautiful collection.
And if you have any enquiries, please contact us.